Rosewood Café – Album review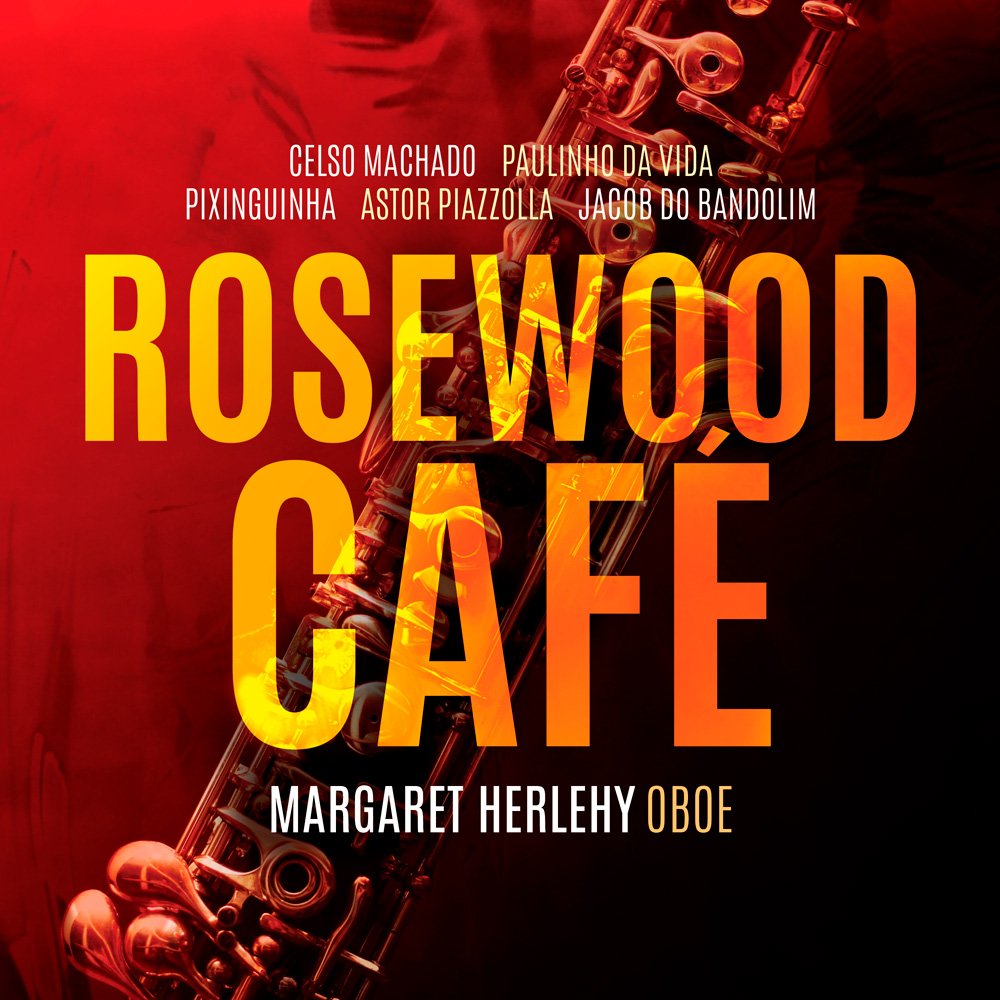 Rosewood Café:
the intoxicating oboe of Margaret Herlehy
If you've been reading my articles for some time, you know by now that I have a thing for South-American music: it's sensual, warm, passionate, comforting and challenging in so many ways. It also adapts very well to different genres: from classical to tango to jazz. So, when I came across this recording mixing South-American composers with jazz topped up by a conventionally classical instrument like the oboe, I was certainly intrigued: starting with the title, which comes from a mix of one of the pieces (Café 1930) and the (Brazilian) rosewood with which Mrs. Herlehy's oboe is made of.
Rosewood Café offers a smooth combination of oboe and guitar, adding to this sonority sometimes a piano, sometimes a flute and a pandeiro (a hand drum popular in Brazil). It's beautifully played and arranged, giving a new perspective on how well an oboe can not only fit in this kind of music but also enhance it.
Track listing:
C. Machado – PÉ DE MOLEQUE
B. Lacerda, Pixinguinha & F. Oliveira – NACHELE TEMPO
P. Da Viola & F. Costa – CHORO NEGRO
C. Machado – QUEBRA QUEIXO
C. Machado – ALGADAO DOCE
J. Do Bandolim – DIABINHO MALUCO
C. Machado- PACOCA
C. Machado- SAMBOSSA
A. Piazzolla – CAFÉ 1930
The album
eased me in with a relaxing samba
by Celso Machado, with an unexpected mellow and warm sound from the oboe, just flowing through the theme and its developments. We then get into a classic tango, titled
Nachele Tempo
, with piano, flute, guitar, oboe, and pandeiro: it's a very refined arrangement, sophisticated while keeping the nature of the music, never over-sentimental.
The third track, Choro Negro, was a surprise: the only piece of the album without the guitar, it starts with a slow and jazzy piano introduction, the main theme is then introduced by the oboe, while the piano accompanies with a harmonically interesting second line; it's then time for the piano to pick up the theme and the pace, slightly, just enough to seamlessly tie into the following oboe entrance. The end goes back to the main theme with the oboe, while Strauss' Rosenkavalier pops up in the harmonic divergencies of the piano. Beautiful!
Quebra Queixo
, by Celso Machado, is a charming, slightly more classical, piece: almost a
rondeau
with variations, it opens with a melancholic D minor theme, followed by more upbeat variations in major. Machado is also the author of the following piece, 
Algadao doce
, which means cotton candy in Portuguese: just like cotton candy, the guitar is light and airy underneath a delicate melody offered by the oboe.
With Diabinho Maluco, by Jacob do Bandolim, we enter a vibrant atmosphere: it's a fun and cheerful flute and oboe duet, with the help of a guitar and a pandeiro. The lead instruments alternate and intertwine, in an overlap that mixes Latin music rhetorical figures and sturdy German counterpoint.
Celso Machado is back with the next couple of tracks: Pacoca is quite melancholic, again in a rondeau form; even its most cheerful part goes inevitably back to the somberness of the main motive. Sambossa, on the other hand, took me back to the mellowness and easiness of the first track, with a few more clouds here and there.
The closing piece, 
Café 1930, 
is by one of the most appreciated South-American composers, known mostly for his Tango music:
Astor Piazzolla
. 
Café 1930 
was first published in 1986 as part of a suite of four pieces, titled l'
Histoire du Tango
, which retraced the key moments in history that changed the Tango: as per title, this piece depicts the
Tango in the 1930s
, when it was not danced anymore, but, rather, listened to; the tango became slower, more melancholic and with more complex harmonies. The oboe, replacing here the flute of the original composition, perfectly renders that melancholic atmosphere of the Parisian cafés, dripping smoke in a foggy evening of November.
Rosewood café: a word on the artists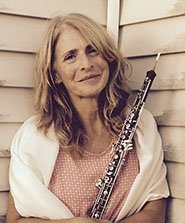 MARGARET HERLEHY was born into a musical family in New Rochelle, NY in 1959. Growing up, she recalls an attic filled with her grandfather's instruments as her experimental playground where she would spend hours figuring out popular tunes on them. At the suggestion of her middle school band director, she started playing the oboe and began playing professionally alongside her teacher Lois Wann at the age of 16. She continued her classical training at the University of Michigan but an interest in the avant-garde brought her back to NY and to Sarah Lawrence College where she connected with composer/clarinetist Meyer Kupferman and Catherine "Kitty" Rowe who introduced her to new music.
Upon relocating to New England, Margaret joined the faculty of Phillips Exeter Academy and later, the University of New Hampshire and enjoys working as a freelance artist performing in the Greater Boston Area. Reaching to extend her voice with the oboe she remains closely involved with searching for new works and collaborating with composers and artists. Margaret Herlehy's performances of Brazilian Choro have been praised as "Powerfully intoxicating" by JAZZ LIVES. On Rosewood Café she brings her classical background to a long-held passion for the popular music of South America.
Mrs. Herlehy is brilliantly accompanied on this album by renown guitarist David Newsam, a graduate of Berklee College of Music in Boston, pianist Henrique Eisenmann, flutist Fernando Brandao and percussionist Negah Santos.
Give it a try and let me know what you think in the comments!

Gianmaria Griglio
Composer and conductor, Gianmaria Griglio is the co-founder and Artistic Director of ARTax Music.
Interested in some more music? Take a look at this series!