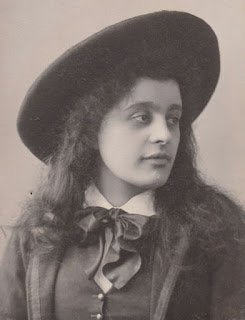 Tilde Carotini: a forgotten opera gem
The name of
Tilde Carotini
will tell nothing to most people: yet, she was one of the most beloved singers of the late 1800s, internationally acclaimed and partner of the most important singers of her time.
There is only one recording of her voice, dating back to 1904 in a duet from Gaetano Donizetti's "La Favorita". The baritone, for the occasion, was the famous Mattia Battistini, known as the king of baritones and baritone of the kings.
Tilde Carotini was born in 1864 in Jesi, in the center of Italy. Her debut took place in 1884 at the Teatro Cagnoni in Vigevano, as Isabella in the opera "L'Ebreo" by Giuseppe Apolloni. Her career took her to some of the main Italian theaters, like Bologna, Rome, and Verona, and, eventually, abroad, to Madrid, Montevideo, and St.Petersburg.
She was a star at the Teatro Regio in Parma, a temple of opera, where she appeared in four different productions in the 1886-1887 season: Mefistofele by Boito, Dinorah by Meyerbeer, Fausta by Bandini, and Rigoletto by Verdi. On February 19 she sang the aria "Oh mio Fernando" from Donizetti's "La Favorita" during a gala evening organized in her honor.
In 1891, while singing La Gioconda by Amilcare Ponchielli at the Goldoni theater in Ancona, she met the tenor Alfredo Zonchi, who then became her husband.
After her performances in Barcellona, Tilde Carotini charmed Rio de Janeiro and Montevideo, and, from there, St.Petersburg and Moscow. She partnered with singers like Enrico Caruso and the aforementioned Mattia Battistini and landed such a success in Warsaw that the producers offered her an eight years contract.
Alfredo Zonghi was born in 1864 as well but debuted a little later than his wife. However, his powerful voice and his interpretations made him well known to the public fairly soon: once the contract with Warsaw was over, in 1905, Tilde left the scenes to follow her husband's flourishing career. Unfortunately, he died prematurely in Venice in 1913.
It's here that we lose trace of Tilde Carotini: she disappeared for more than 20 years only to resurface in 1940. With no money whatsoever, she asked for a minimal subsidy to the Boito Foundation and to be accepted at the home for retired musicians in Milan (the one founded by Giuseppe Verdi). She died on November 22nd, 1943, alone and completely forgotten.
Gaetano Donizetti – self portrait
Final thoughts
Despite living in the golden age of Italian opera, the age of Verdi, Puccini (by the way, she even sang the part of the musico in Manon Lescaut), Ponchielli and so many others, and being one of the most beloved singers of her time, Tilde Carotini didn't make it through history, trapped in its pages or perhaps just in her own tragedy.
It's unfortunate that there is basically no audio documentation of her interpretations; I sure would love to hear her Favorita…

Gianmaria Griglio
Composer and conductor, Gianmaria Griglio is the co-founder and Artistic Director of ARTax Music.
Interested in some more music? Take a look at this series!